Rocket Video Contest - 2008
CONTEST - IS OVER!



Contests: All Previous Next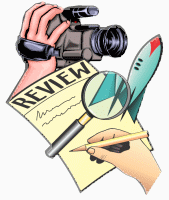 Essence's Model Rocketry Reviews is pleased to announce our second annual: ROCKET VIDEO contest. This was a first-of-kind for rocketry and a first for EMRR in 2007 and we loved it!
You may choose to use an on-board video, combination, or hand-held. Your may choose to add titles, transitions or music... it's your call. You may choose to include people or just a rocket... really, you decide. Just be sure to have a high: COOLNESS FACTOR! Make us say, "cool" and "hey, come here and watch this!".
NOTE:
Participating in this contest counts toward the 2008 EMRR Challenge.
Entries will be judged by EMRR Guests during a voting week starting September 29, 2008.
Entry Requirements:

Rated "G"; including language and musical lyrics
Hobby rocketry (any power level)
< 15 Meg is size
< 3 Minutes Long
MPEG, WMV, or MOV (e-mail me if different)
A Screen shot for posting (clicking on it will get the movie)
Your original work or with permission of another hobbiest
Title
Write-up must give basic information and details
Include a small award acceptance speech (published if you place)... just like the EMMY awards

Contestants must be on EMRR's eList to be eligible
Only one entry per Contestant (you may substitute entry with another any time prior to the end of the contest... give us your best!)
Entries must be received by 9/28/2008.
PRIZE SELECTION: The normal prize selection procedure for EMRR is that at the end of the contest winners will get an e-mail THROUGH THE eList asking them to acknowledge by reply within a week. Prize selection is done through this e-mail exchange.
PRIZE TABLE*:

Booster Vision

BoosterVision Mini GearCam
Wireless video camera with built-in transmitter comes complete with receiver

Art Applewhite Rockets
Any Style of Flying Saucer kit of your choice of design up to a 29mm motor mount.

QModeling

(1) XP-RAPTOR Rocket Kit

Leading Edge Rocketry

(1) Night Skeeter Kit

Pemberton Technologies

(1) Pemberton Kraken Kit

ARA Press
A copy of the Spaceship Handbook by Jack Hagerty and Jon C. Rogers, published by ARA Press. Over 100 Data Sheets on 75 different spacecraft. (see review)

RocketFlite
One complete Electric Match Package:
1- ML-KIT *PLUS* Choice of (2):
1-bag of ML-12
1-bag of ML-24
1-bag of ML-48
1-bag ML-72
Guest: Ron Wirth

(1) Saturn 1B 1/70th Kit
Guest: Peter Stanley

(1) Saturn Press Arcas Kit
Guest: Michael Nipper

(1) Vincent's Hobby Hughes AIM-47A Kit
---
ENTRIES
---
#10 - Steve Kristal 145 points

Acceptance Speech

I'd like to thank Nick for hosting another great contest. It was only the idea of the contest that got me thinking about gathering together all the bits and pieces to try to tell the story of this remarkably complex build. If it wasn't for the contest, and the deadline, I know I wouldn't have gotten this done. Thanks Nick.

And thanks to all the wonderful sponsors who keep making these contests worth entering.

Thanks to Gordy whose truly amazing skills and incredible imagination are the only things that make a project like this possible.

To KosRox for providing the intitial inspiration and to Peter Alway, George Gassaway, and Mike Dorffler for their great research and their willingness to share it.

To MaxQ for the wonderful picture of Gordy and me with Walter Cunningham and to Andy Tomasch for the great PA-1 liftoff shot at MSMC.

To Mark Mayfield for bringing Walt to NARAM and for Launch's continued interest in the Pad Aborts.

Finally, to my fellow rocketeers at Huvars, JMRC, and SMASH who continue to provide such great companionship, education, and inspiration. Thanks again to you all.




The Apollo Pad Abort Project





Gordon Agnello and I built scale models of NASA's Apollo Pad Abort Test vehicles which flew in the early 1960s. Our models fly on four D engines, arranged in the same canted tractor design as the original vehicles. This video is a short documentary of the original NASA project and our attempt to build flying scale models similar to the originals.
#1 - Jeff Lane 86 points




Man fo Constant Sorrows





I am submitting an entry for the 2008 video contest. "I Am a Man of Constant Sorrows" is compiled from 2007-2008 footage at COSROCS, Tripoli Colorado Hartsel, Southern Colorado Rocketeers (SCORE), and TARC launches. The music is from the "O Brother, Where Art Thou" movie soundtrack published by Lost Highway Records. Go out an buy the CD. It's great stuff.
#12 - Scott Tyrrell 68 points




Two Stage Slow Motion Movie Camera Rocket





Flipper Two was a 4 inch dual deploy rocket with a Super 8 movie camera on board, and took many movies from 1995-1999. It was a two stager with outboards. The movie camera was rigged to run fast, so the movies play back in about 1/2 speed. The three flights in this reached 3600-4500 feet. Enjoy!
#8 - Tom Krawczyk 58 points




TKO





This video is a TKO production for all of the rocketeers out there who've had one of those days where it all goes up in smoke.
#5 - David Brunsting 41 ppoints




Fight For A Cure





I saw this rocket in the fall of 2007 at Three Oaks, Michigan. Immediately, I thought, "What a cool idea for a fundraiser!" So I popped out my video camera and interviewed Jeff Walters about his creation. He even got a great writeup in Launch Magazine. After a short search through my video collection I managed to find footage of the L powered flight that previous spring which completed this video.
#2 - Randy Lutz 30 points




Midwest Power Fun





Video for my submission was taken at Midwest Power V. Midwest Power is a large regional launch held in Princeton Illinois during late October. The music is a remix of Vesti la Giubba - a famous tenor aria performed as part of the opera Pagliacci. I first heard this version on a promo for a pay-per-view wrestling event and immediately knew I had to use this for my next HPR video. Hope you enjoy.
#9 - Beth Zastempowski 28 points




Expediter with a Booster Vision





The following video is of my LOC Precision Expediter with a Booster Vision Camera.   I flew it on a Aerotech H238 and it rocked!
#11 - Cliff Oliver 22 points




Cliff's Temporary Insanity





This video was shot from my rocket named Temporary Insanity. This was my L3 project which I successfully launched for L3 at the Florida Winter Nationals 2008. This launch was at my the SEARS monthly launch in Samson, AL. Greg Lane loaned the camera for the launch and he also did the final editing as well. Greg did al the work on this video. I just gave him a ride. Temporary Insanity flew to 4220' and recovered within a short distance to the pads. Enjoy the video.
#13 - Geoff Kerbel 21 points




Initiator Camera Rocket





This movie was with my Aerotech Initiator now fitted with a camera mount. The mount is made from a 12" long piece of LOC 2.5" tube with the camera friction fitted into a BT-50 that has been glued horizontally into the side of the LOC tube. The rocket has less spin then the Mirage did. The flight was great until the early delay allowed the rocket to go through the chute shroud lines and hung one up on the motor hook. I didn't know this when it happened, only that the rocket was coming down with a bad chute. Luck was with it as only one fin popped clean off and another had the fillets broken. The camera was fine. The rocket has since been repaired like new. It was a stroke of luck that the line that hung up was in the camera shot to actually show what had happened!
#4 - Dick Stafford 20 points




Grizzly Behr




#6 - Craig Rutherford 19 points




Trebuchet





This entry into EMRR's video contest is composed of onboard video from my rocket named "Trebuchet", a clustered and staged black powder powered vehicle.  Initial boost was provided by a central Estes D12, two A8s and two C6s.  The sustainer was powered by one E9.  The initial dizzying spin was the product of canted booster fins, a safety feature in case one of the outboard engines failed to light.  The secondary spin of the sustainer was believed to be caused by slag buildup seen in the nozzle throat.  Sorry, no music and the video editing isn't up to pro standards but I hope you enjoy it.
#3 - Dan Nocera 15 points




Viperfest





Here is my entry for the 2008 video contest. It is was my first time participating in CATO's world famous Viper Fest model rocket drag race!l CATO launches multiple Loc Precision Viper IV "cluster-birds" at once. Each rocket is powered by 4 Estes D12-5 engines. This drag race took place at CATO #138 on June 14th, 2008 in Durham, Connecticut. We shot this with two HDV camera. It was cut in Final Cut Pro.

Here it is at vimeo in HD!
#7 - Sather Ranum 14 points




Galactica





This is a submission for the video contest. The video was taken by WOOSH President Scott Goebel. "Galactica", 5.5" diameter and 16 pounds, was scratchbuilt by Sather Ranum and is flying here on a J415, with a tethered main deployment. The rocket flew to approximately 2400', and the video shows the entire flight profile,launch to landing, including apogee deployment of drogue and tethered release of main at 700'.
---
* The actual number of prizes issued will not exceed 3/4ths of the number of contest entries (e.g. if there are 10 prizes and only 10 entries, only 7 prizes will be issued). EMRR assumes no responsibility for the prize once it leaves our or the prize donor's location. EMRR is not liable for any damages or injury caused by the assembly or use of the prize.