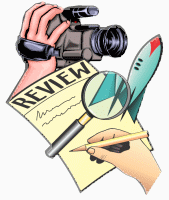 Essence's Model Rocketry Reviews is pleased to announce a new contest type: ROCKET VIDEO contest. This may be a first-of-kind for rocketry and if not it is definitely a first for EMRR.
You may choose to use an on-board video, combination, or hand-held. Your may choose to add titles, transitions or music... it's your call. You may choose to include people or just a rocket... really, you decide. Just be sure to have a high: COOLNESS FACTOR! Make us say, "cool" and "hey, come here and watch this!".
NOTE:
Participating in this contest counts toward the 2007 EMRR Challenge.
Entries will be judged by EMRR Guests during a voting week starting July 30, 2007.
Entry Requirements:

Rated "G"; including language and musical lyrics
Hobby rocketry (any power level)
< 15 Meg is size
< 3 Minutes Long
MPEG, WMV, or MOV (e-mail me if different)
A Screen shot for posting (clicking on it will get the movie)
Your original work or with permission of another hobbiest
Title
Write-up must give basic information and details
Include a small award acceptance speech (published if you place)... just like the EMMY awards

Contestants must be on EMRR's eList to be eligible
Only one entry per Contestant (you may substitute entry with another any time prior to the end of the contest... give us your best!)
Entries must be received by 8/31/2007.
PRIZE TABLE* (Can you donate a prize):

Booster Vision

BoosterVision Mini GearCam
Wireless video camera with built-in transmitter comes complete with receiver

RocketFlite
One complete Electric Match Package:
1- ML-KIT *PLUS* Choice of (2):
1-bag of ML-12
1-bag of ML-24
1-bag of ML-48
1-bag ML-72

Art Applewhite Rockets
Any Style of Flying Saucer kit of your choice of design up to a 29mm motor mount.

SpaceCAD

(1) SpaceCAD Registration License

Quest Aerospace

(1) Nike-Terrier and (1) Shuttle Intrepid kits

Sirius Rocketry

(1) Interrogator Rocket Kit

Aerotech
(1) Mustang Rocket Kit

EMRR

ROCKETS Magazines: LDRS 25 Silver Anniversary DVD set.

EMRR

50 Years of Space Exploration DVD Set!
---
Aspirations - Jerry O'Sullivan:
I met Jerry in Virginia when he first started flying... and look at him now! Major power here. I've tried reaching him a couple times in the past year (he missed the 2007 EMRR Calendar entry... a first) and pulled these videos from his website: Virginia High Power Rocketry
Please let him know that he has inspired this new EMRR contest!
Ground Example:

Nike-Ntropy
MPG (11 Meg)
On-Board Example:

Nike-Ntropy
L1500
MPG (9 Meg)
People/Mix Example:

11.5" Nike Smoke
N3000
WMV (7 Meg)
---
ENTRIES
#8 - Steve Kristal - 60 Points

"Thank you very much. Gotta love the Snitch"




Flight of the Snitch





The classic Estes Snitch filmed from a variety of angles. No Snitches were harmed in making this movie.
---
#1 - Cliff Oliver - 54 Points

"Thank You very much! It took a combination of success and failure to make this video. Although I have been making on-board video for a short time, it is quickly becoming a favorite part of my rocketry hobby. Thanks to Marty and Kendal for taking the on-ground video."




Oliver's Twist





This is a video of and from my 24mm up-scale of a Fliskits Deuce's Wild! I built a camera pod I call an "Eye Pod" that carries a Booster Vision camera. The first flight in the video shows a good flight. It was on two Estes E9's. The second flight was on two Aero Tech E15's. A combination of the motors not lighting at the same time and the lower launch lug separating from the airframe caused the rocket to hang on the rod and spin. First one way then the other as the motors lit and burned. The rocket sustained moderate damage as the lower launch lug was ripped off and the motor mount destroyed itself. But, it will be back in flight status in short order after the repairs are made. Both flights were at monthly launches of the SouthEast Alabama rocketry Society (SEARS).
---
#12 - Ron Wirth - 52 Points




The Build





Building the Semroc Centurian... takes no time at all!
---
#5 - Jeff Lane - 49 Points




Live Free and Launch Hard





We pay homage to one of the best movie trailers ever made... Live Free or Die Hard. The video clips are from a combined Tripoli/COSROCS/S.C.O.R.E. launch in Hartsel, Colorado on June 9-10 2007. And yes, we do have live buffalo on the range. Requires Quicktime 7 with H.264 codec.
---
#6 - Kyle Cornelius - 38 Points




Southern Thunder 2007





This is a compilation of most of the highlights of Southern Thunder 2007, June 9-10 in Manchester, TN. Pink Floyd provides the background music. In this video is a drag race with 4 K motors and a drag race with 3 M2200SK, along with 6 L3 cert attempts and a few more M's. This launch had a total of 429 flights with many M's and 1 N, and it has been rapidly increasing popularity since it started 4 years ago. I hope you enjoy my video...
---
#2 - Greg Lane - 38 Points




The ATC-2K Affair





The Oregon Scientific ATC-2K video action camera gets more than it bargained for in this action thriller. It takes place aboard the PML AMRAAM 4 rocket boosted by the mighty Aerotech J350 motor at white lightening speeds to 1900 feet. This is a Greg Lane production made on location at beautiful Samson, Alabama. Sponsored by the Southeast Alabama Rocketry Society. Showing on YouTube NOW!
---
#7 - Ian Cinnamon - 20 Points




Monocopters from Dawn to Dusk





The Alien Enterprises 24mm Monocopter is the star in this video. Filmed from the afternoon into the late night, this desert launch depicts not only numerous monocopter flights, but other experimental flights, as well... from the "flying launch pad" to the unheard of 4 stage rocket. Whether it be secret messages displayed from the monocopter or rockets getting stuck on the launch rod, this video will show you what happened that afternoon/night. This launch took place on 8/4/07 - 8/5/07 at El Mirage Dry Lake Bed in California.

Note: This video is best played with sound. Thanks for watching!
---
#4 - Clair Mills - 16 Points




Level 1 certification with onboard video





This was my level 1 certification flight. The rocket is a BSD "38 Special" that is 6 inches longer than stock after some damage from a partially deployed parachute. The motor is an Aerotech H148R, which is a great low-altitude motor for this rocket. The flight took place on 2/17/07 from UROC's Pony Express Test Range into perfect weather. I completely redesigned my recovery harness after seeing how twisted it gets on the way down.
---
#10 - Matthew Gillard - 14 Points




Swinger - Meet My Foot





So far I've R.I.P.'d 5 swingers by Fun Rockets. Read the review on the Swinger first, then the video makes a little more sense. Ironically, this swinger performed the best out of the five; it got off the pad, went up, and did not shred when the ejection charge went off, which is more than the others did!
---
#11 - Dwayne Shmel - 6 Points




It's been a Hard Day's Landing





This is a Boostervision system being lofted by a scratch built 8 fin rocket using a BT-56 body tube. This flight uses a D12-5 motor. The camera nosecone and rocket body return on separate chutes. This rocket was built as a two stage configuration, but this flight is with the sustainer only.
---
#9 - Scott Turnbull - 4 Points




Ballistic Spiral





This mini-movie includes highlights of onboard video from a NYPower 12 launch of my Aerotech Initiator. The flight was short and eventful, with more than usual spin, and a bonus delay leading down to a low altitude, high velocity chute deployment. It's the only video I've done that lingers so long on the view of the clouds in the sky. The video equipment is a BoosterVision GearCam mounted as a pair of strapon pods. The camera is in one pod mounted near the top of the airframe. The battery is in another, mounted on the opposite side of the airframe. The motor is an AeroTech G33 reload. The receiving groundstation is the GearCam receiver with a home built patch antenna. An AIPTEK MPVR digital camcorder was used to record the flight data and accompanying ground footage. The initial flight arc, and moderate spin, are believed to have been due to some rod binding against the camera mount ties, combined with asymmetrical drag of the camera cable.
---
#3 - Geoffrey Kerbel - 3 Points




Camera Mirage





LOST!

This was the second flight of my Aerotech Mirage with a small 5in1 camera. It is the standard Mirage kit that was already built when I got it. I thought it was a straight flyer and placed a BT-55 tube horizontally into the body tube to house the camera. It was about 3/4's up from the bottom. This would leave enough room for the chute and harness. The first flight showed a twist going up but no hint of what was next. I thought I had the fin straightened and friction fit the camera again into its "pod". The rocket boosted up on a G33J and ejection occured just past apogee. The rocket went horizontal with the nose cone out but no chute. I was hoping it didn't land on the camera! At about 150' up the chute finally came out and I was a happy camper. Imagine my supprise when I downloaded the movie to see what occured!! How it didn't spit out the camera, I will never know! If it had I never would have found it. You will need to raise the sound in the begining if you want to hear th e LCO but make sure you lower it as soon as it launches. The onboard audio is very loud!!!
---
* The actual number of prizes issued will not exceed 3/4ths of the number of contest entries (e.g. if there are 10 prizes and only 10 entries, only 7 prizes will be issued). EMRR assumes no responsibility for the prize once it leaves our or the prize donor's location. EMRR is not liable for any damages or injury caused by the assembly or use of the prize.