Essence's Model Rocketry Reviews is pleased to announce a new photo contest. There are three categories and three prizes for this contest! Read below to understand the requirements.
Entries will be judged by EMRR Guests during a voting week of June 11 - 15.
Entry must be (1) to (3) photos showing Launch photos of same rocket. Must have at least smoke visible.
Entry may be GIF, JPEG, of BMP - or - if you don't have an electronic photo, e-mail us for a mailing address and we will scan the pictures for you.
The "write-up" need only be basic information of what rocket it was and on what motor. It would be nice to know altitude, recovery and success (or not) information too!
Entry must specify category, MicroMax, Model to Mid (1/4A to G), or High Power (H-M)
Contestants may only enter (1) category
Contestants must be on EMRR's Announcement List to be eligible
Contest is over on 6/10/2001.
Online Voting will take place from 6/11 - 6/15.
---
MicroMaxx - We are pleased to announce that Nano Rocketry will be putting up the prize for this category . . . a whole slew of MMaxx Rockets from Nano Rocketry.
RESULTS
1st - 26 votes - Lindsey Tulanko #2
2nd - 18 votes - Me #1
---
Entry #1 - Nick Esselman
Catch it if you can . . . as Raw Fusion blasts off on a 200nS motor to an altitude of 9144 cm. Also, I ask you, if the length of a motor flame compared to the length of a rocket, would MicroMaxx rockets be classified as High Power?

| | | |
| --- | --- | --- |
| | | |
---
Entry #2 - Lindsey Tulanko
This is a picture of my Quest Raw Fusion we launched from my grandpa's back yard. My brother Thomas and I had a lot of fun and we used about thirty motors that day. They are really fast and this is the only picture that shows one. It went up about 150 feet and landed right next to me. We ran out of motors, so now I can't wait for the next order to come in!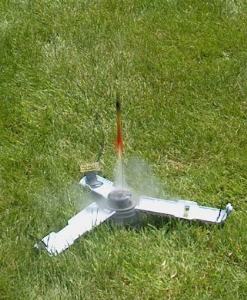 (Click for Larger Image)
---
Model to Mid (1/4A to G) - We are happy to see Aardvark and Blackhawk join teams and they are helping to support this contest with a donation of a kit for the Model to Mid-Power section.
RESULTS
1st - 56 points - Chris Taylor #8
2nd - 17 points - Brandon Barzee #18
3rd - 13 points - Chuck Rudy #4
4th - 9 points - Chuck Straka #5
5th - 7 points - Stephen Ruane #10 and Chris Kiekens #13
---
Entry #1 - Geoff Stanford
The first picture is my PML Phobos boosting on G64-4W at the Father's Day Launch at LUNAR in June 2000. I thought this was a picture perfect flight at the time. The next two pictures show the same model at LUNAR's July 2000 launch just as the motor lit and a 1/2 second later as it leaped into the air. I say 1/2 second because my auto-winder pulls the film through at 2 frames per second. This also was on a G64-4W. Later in the year, I learned the hard way (via a damaged rocket) that a G64-4W is too short of a delay for the Phobos. Now, I only use the 7 second delay, unless there is a bit of a wind picking up.

| | | |
| --- | --- | --- |
| | | |
---
Entry #2 - Mark Morely
Estes X-Wing from a kit in a starter set on clearance at Wal-Mart. $6 It takes off slow enough that even *I* can catch a photo of it.
---
Entry #3 - David W. Fergus
This is my 1/5 scale Cosmodrome Nike Smoke on an Aerotech F23-4FJ at the MASA (NAR section # 576) club launch of April 28, 2001. This was a maiden flight in somewhat windy conditions. The curve in the smoke trail is from the wind blowing the smoke, not an unstable takeoff! The wind was about 15-20 kts. The real Nike Smoke is used by NASA to evaluate wind conditions at all altitudes aloft prior to launching the big boys. NASA uses time-lapse photography from several angles to calculate wind speed and direction. The real rocket generates its' "smoke" by ejecting a fluid out of the payload bay in the nose cone that crystallizes in the atmosphere to create a contrail path. The photo was taken on a Pentax SLR 35mm camera with 400ASA film at 1/1000 shutter speed with a 50mm lens. The flight was perfect to about 1500 ft. It curved over into the wind towards the end of coast, and popped the chute just prior to apogee. It drifted about 1/2 mile downwind, and was recovered with virtually no damage. This was my very first attempt at SLR photography of my rocket flights. Now that I know I can snap fast enough after ignition, I will try my 135mm zoom next month. The second shot is of this rocket's third flight on an E16-4W reload. It flew hot and straight to about 700 feet, but I forgot the parachute in my eagerness to load the pad, and subsequently tested tumble recovery mode of this 14 oz. rocket. It only suffered a broken tip of the balsa nose cone, and a small dent in the aft end of the body tube. This is a well designed kit! It has also survived with no damage a premature ejection by just dragging the chute behind it to an early apogee and normal recovery.

| | |
| --- | --- |
| | |
---
Entry #4 - Chuck Rudy
What more could you ask for? Perfect cobalt blue sky, slight wind, sun beaming, the D12-5 is loaded, the kids launched the crowd favorite Estes Mean Machine, and what a beautiful launch it was......well........We could ask for the trees to give the rocket back. See those beautiful 80 foot trees in the background? At the camp it's called Sherwood Forest. It seems winds a couple hundred feet up put the Mean Machine into it's new home in Sherwood. So we only have one pic to enter.
---
Entry #5 - Chuck Straka
This is a photo of my NCR Eliminator flown on an Aerotech F20-4 Econojet. I've flown this many times on this motor with great success. The F20 consistently propels the Eliminator to approximately 1,000 feet, produces lots of smoke and a great roaring sound in the process. A real crowd pleaser! Thanks to my brother Dave for an excellent photograph of this launch.

| | |
| --- | --- |
| | |
---
Entry #6 - Mark and Jared Frampton
LOC Graduator on a G35-7W, just outside my Folk's back yard in West Texas. It was little too breezy as you can tell there is some weather clocking. Recoveries all always safe out there in the plowed fields which also reduces chute dragging. Recovery on that day was about a half a mile from the launch site. My boy and I (Jared) built the LOC as our 1st mid-power over a year ago. I have to say that the G35-7W is the best presentation motor we've tried as of yet. For some reason the G35 has a roar that stands out above the rest. We plan to certify on this rocket with an H55. Can't wait!
---
Entry #7 - Rhonda Jenkins
05/22/01 Scott Jenkins' scratch built 2.5" diameter "Outlaw" on Aerotech G64-7W power. 10th flight for this rocket. Recovery via 9' streamer. Landing was over 40 ' in a tree top. Rocket was safely recovered the next day with no damage.
---
Entry #8 - Chris Taylor
This is John Pursley's Redstone on a G55
---
Entry #9 - Robert Geer
This is the maiden flight of my 9yo daughter Amber's Scratch built "Butterfly" on an A3-4T on 3/25/00. The rocket is already going about 70mph at this point so it's just plain luck that I got the picture, the rocket deployed its purple mylar streamer right at apogee and was recovered without damage. It has flown many times since then and I have attempted to photograph the launch a least a half dozen times but I always end up with nothin but smoke!
---
Entry #10 - Stephen Ruane
Aerotech G-Force on a G64W.
---
Entry #11 - Mike Smith
May 2001 - Since we scatch build all our rockets, they don't always work. This D12-5 motor rocket is made out of a plastic tube found in a golf bag with fins cut from shampoo bottles. The first launch (white fins) is my favourite picture but this rocket cartwheeled around the sky. I don't think the fins were big enough and one of them actually broke as it hit the floor. The parachute then deployed perfectly! The second launch (red fins and nosecone from a C motor that flew earlier that day masking taped on) was more successful with a very straight flight (for us) with parachute deployment at apogee!!!! Probably about 800ft at a guess and then drifted in quite a strong wind two farmers fields away. This was my first ever parachute deployment that worked so I was very proud.

| | |
| --- | --- |
| | |
---
Entry #12 - Tim Bush
---
Entry #13 - Chris Kiekens
A scratch built on an Estes D-12, flew to roughly 400 feet, chute deployed just after apogee, except on the last launch, which resulted in the fiery mess you see here...

| | | |
| --- | --- | --- |
| | | |
---
Entry #14 - Alex Immerman
The Plungerroc. An orange MasterPlunger with a toilet tank ball nose and plexiglass fins and a 24mm motor mount. It originally designed and flown for the RMR Descon 8, but I was unable to set up a web page in time, I did however get to fly it twice. This photo is from the first launch on an E15-4 at CATO XLV. It was a very windy day and thus, because of its large fins and over-stability it wound up with a horizontal "cruise missile" flight which resulted in a crash landing prior to chute deployment. It was still a real crowd pleaser, everyone asked "are you really gonna fly that thing??" and "what is THAT?" The damage was relatively minor, just a dented toilet tank ball (was easily repaired), one popped fin, and a badly burned shock cord. It was repaired and flew again on a F32 but failed because a fin separated during flight at about 250 ft causing it to spiral out of control and crash. It will be repaired and will fly again!!! Despite the unfortunate outcome, it was lots of fun to design, build, and fly, and the crowd always loves this heads up flight.
---
Entry #15 - Scott E Turnbull
I captured pillars of fire through my Canon Powershot's Lens this evening. An RTF R2D2 Unit Lumbers off the Pad Powered by a miss chosen A8-3 engine. Despite a low ejection and hard knock, the plucky droid was ready to fly again. A more suitable C6-3 engine sent the R2 on its second flight. The creeping twilight slowed the shutter, resulting in a motion blurred double image perched on a pillar of flame.

| | |
| --- | --- |
| | |
---
Entry #16- Kevin Johnson
Here's a couple of photos of the Estes F-22 glider taking of under the thrust of C6-3 motors. Both pictures were taking at NARHAMS club launches in Middletown, MD. It's a real shame that Estes stopped making this kit, it's one of their better flying gliders.

| | |
| --- | --- |
| | |
---
Entry #17- Peter W. Clay
These are two photos of the same (second) flight of my daughter's Descon 8 entry, "Firebutt", on a D12-3. The setting is the playground at Cornelius Grade School. Photos by Peter W. Clay, using a Pentax SLR and 85mm lens. Rocket by Amanda Clay, 8, seen in the first photo.

| | |
| --- | --- |
| | |
---
Entry #18 - Brandon Barzee
This is a picture of LOC's Onyx being launched on an F20-7W. It achieved an altitude of approximately 1200 feet and was recovered successfully. This rocket is a favorite of mine and flies great!
---
High Power (H-M)- We are pleased to have one of EMRR's Guests, Casey Smith contribute the prize for High Power. He will be donating a DGA Predator. We greatly appreciate his support of this contest and EMRR!
RESULTS
1st - 67 points - Kevin Patterson #1
2nd - 18 points - Jon H. Ruehle #12
3rd - 13 points - Scott Jenkins #7
4th - 11 points - Carl Tulanko #3
5th - 8 points - Steve LaCroix #9
---
Entry #1 - Kevin Patterson
The Gila Monster was launched at the April 28th AHPRA monthly launch on (5) M motors: (1) M1939W and (4) M1315W's. It is 21' tall x 16.5" in diameter, total lift off weight 270LB, (3) 'chutes 30', 28' and 9' of which 2 deployed for a good recovery. In the second launch photo about half way down the smoke plume you can see the grain burning from the M1939W that CATOed at about 100'. The Gila monster was built from scratch and launched by Ed Wilk and Bob Heninger. By far the coolest launch I have seen. I shot the launch with my Olympus C3000 with external battery pack in 1600x1200 mode The link to AHPRA

| | |
| --- | --- |
| | |
---
Entry #2 - David Buhler
This is my 1/3 scale Wac Corporal boosting on a K550 into the blue yonder. My first attempt at staging and the results were....let's say "not favorable". The sustainer drag separated but did not ignite even though the electronics tried, at least the recovery side of things worked. The booster was so dismayed when its upper half failed that it decided to do the right thing and plummet to earth with a , oh so stomach wrenching....sssssshhhhhTHUD. It has flown two more times since with dubious results......
---
Entry #3 - Carl Tulanko
These are photos of my PML Amraam 4, which was launched on a J415W at the last meet of the spring season for our Mid-Ohio club. I used an Altec RAS-2 recording altimeter with dual deploy for electronics and we all watched as it reached a maximum velocity of 617fps/421mph at 1511 feet and continued to a peak altitude of 4903 feet. Separation occurred at apogee and, at that altitude, the chrome band just above the fins glimmered in the sun and allowed us to track it. The main chute deployed at 750' and it landed safely and fairly close, considering the altitude. Decent rate was 20fps after the main deployed and total flight time was 102 seconds. This was the first time I had a chance to photograph the rocket in flight, as I usually just watch and take in the moment.

| | |
| --- | --- |
| | |
---
Entry #4 - Chip Jenkins
This is not your average 1/100 scale Saturn V. This one is made from 4" LOC tubing. The fins are solid and the fairings are filled with 2 part foam. It was built with a 29mm motor tube so that the owner (I do not remember his name) could launch it with a 29mm reloads. I snapped these pictures on May 5th of this year. The reload used e was an H-128 with (I believe) a medium delay. The combination of the scale Saturn V with the flame and smoke of the H-128 makes for a very realistic looking launch. At apogee, the upper and lower sections floated down separately, each section under it's own chute. Perfect flight for a windy day with a perfect recovery
---
Entry #5 - Chuck Pierce
Dateline: April 28, Mick Meet, Ardmore, Alabama, approximately 1600 zulu. The rocket: BSD Horizon, outfitted with an H123 and an RRC2 altimeter for dual-stage recovery. The scenario: An incoming bogey. Photo 1: Bogey detected. We have ignition. Photo 2: Pad cleared. Nominal boost. Rocket is on a vertical intercept trajectory. Photo 3: Bogey acquired. Unfortunately, the motor exhausted at 987 feet per the altimeter, but successfully deployed a 12" Rocket Rage drogue chute at apogee and a 58" main chute at 300 feet AGL. Perfect flight and recovery. As it turned out, the bogey, flying at well over 30K feet, was well out of reach of the Northern Alabama Civilian Defensive System (NACDS). Back to the drawing board; we need more impulse!!

| | | |
| --- | --- | --- |
| | | |
---
Entry #6 - Mike Rangitsch
This is the last flight of the day for a Tiger Cub launch. The LOC HiTech is boosting nicely on an H73 -- I'm amazed I got it at all! Boost was wonderful, but, alas the delay was too short. Recovery ended up with a zipper, easily fixed but not the nicest result you could ask for. Launching his first big rocket is Don -- he owns the sugar plantation and has given me blanket approval for more launches.....
---
Entry #7 - Scott Jenkins
05/13/01 Orangeburg, SC. Tom Binford's "Motor Eater" on K550 power. Apogee 3950'. Perfect and safe recovery after high/low deployment.

| | |
| --- | --- |
| | |
---
Entry #8 - John Storey
This is a photo my brother, Bayard Storey, took of my 4" Sprite on a J-350. Altitude was about 3000', with successful recovery after a too-long delay. Only problem was one of the fin "ears" cracked on the playa. That happens a lot with this rocket.
---
Entry #9 - Steve LaCroix
Here is a shot of my Full Scale GIRD X lifting off on a test flight. The photographer was Eric Fletcher. I flew it on an Aerotech L-850 in a DR. Rocket 75 mm casing. I used a MissileWorks altimeter for dual deployment. I crossed the wires on the ejection charges so the main chute charge fired at apogee (3300 ft AGL) but the recovery was less than a quarter mile from the pad. At NSL, I will attempt a NAR L3 Certification with the same rocket on an M-1315...I hope I can get a shot as good as this.....
---
Entry #10 - Dave Rose
My Rocketman Rocket Boy (Miss Riley) successfull dual deployment flight with a perfect boost on a J350.
---
Entry #11 - Mike Jerauld
Richard Ortega of Gallup, New Mexico certifying Level 1 with his NCR SA-14 Archer for the last flight of NSL 2001. Richard used an H180W-M reload provided by Jeff Steel of Rocket Motion. You could see his stress and excitement with the thunder and lightning 5 miles away in the background, the misfire of the first igniter, the last countdown. Up and over the top, perfect sideways ejection. He certified level 1 first time. Congratulations Richard!
---
Entry #12 - Jon H. Ruehle
This is a scratch built AIM-54 Phoenix built by Alan Cain of Houston TX. 4" diameter, just about 1/4 scale, 7lbs....in that photo, it was flying on a J-415(54mm) to ~5k ft.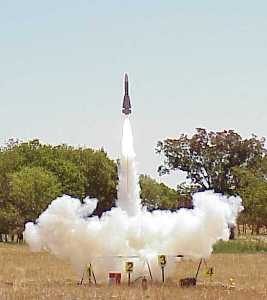 ---
Entry #13 - Robert Theobald
This is my 1/4 Scale Phoenix missile made from 4" thin wall PVC pipe. It's boosting on a H128W-6 . Weighs 5 lbs and reaches approximately 800 feet in altitude on this motor. This was the third flight and with perfect recovery!
---
Entry #14 - Ken Walsh
This picture was taken by my son Brigham, age 12, with a Fuji Finepix 4900 digital camera. The launch was at Bong Recreation Area in Wisconsin. It was in the low 50's, light wind, and completely overcast. This was a drag race, notice the smoke on the right. The rocket on the right won and landed gently. The rocket on the left - - -.