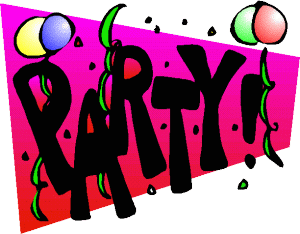 Well, after over 12 years, I am retiring from EMRR! So, consider this my retirement party. Now just like any retirement party I expect memories to be shared, roasts to be made, fun(nny) things for all, and yes, even gifts, if you feel so inclined <grin>.
And to be consistent with EMRR, your role in this retirement party will be judged and awarded. The person that makes the greatest memory for me in this month-long party will win a prize of my choice.
You have until 9/30/10 to make this party fun for all!
Electronic entry must include: WHATEVER! (pictures, movies, song, words, eCards, etc.)
Non-electronic entry may include: ANYTHING! (rockets, books, dvds, cash, etc.)

For non-Electronic Entries: e-mail me first at

Entry must include some form of a write-up telling us why you sent such a gift, what it is, AND if you want your name known.
Entries must be received by 09/30/2010.
EMRR will choose the winner from all the entries, so work hard to be impressive, unique, funny, touching, generous or creative.
Submit your entries here:
---
Entries:
Entry #1: Dick Stafford

(Click to Enlarge)



I want to thank Nick for the many years of enjoyment that I reaped from his efforts on EMRR. I've been using the site almost from the beginning and have been a helper for over nine. How time flies. My small contribution gave me a close view of just how much effort he put in and that made me all the more appreciative. It was a pleasure helping out. I also appreciate all the loot that I won and received for my assistance. I created the attached composite image to show some of said loot. Many of these rockets remain some my favorites. I hope this brings back a few good memories.

So, Nick, I wish you luck in your future endeavors both on and off the field. I hope you enjoy the ROCKETS LDRS-29 DVD.
Entry #2: Dale Marshall

(Click to Enlarge)



Happy Retirement!

I recently returned to rocketry after way too many years off, and I must say that EMRR has helped me immensely. Before buying a rocket, I'll look for a review and read it to help me decide if I want to spend my time and money on the kit. The tips on finishing, masking, and in general building have been well worth the time I spend perusing the site.

This year's contest (the first I've competed in) has forced me to build more rockets than I ordinarily would have - which is a good thing. It has also moved me into new areas of rocket building (upscaling, mods, etc).

Here's hoping you enjoy your retirement and spend all that extra time building and flying rockets!!!!

I've included a collage of the rockets I've submitted this year for the EMRR contest.
Entry #3: Chan Stevens



I think my first contact with Nick came after I'd submitted a few reviews, when he asked if I'd be willing to be one of his go-to builders to do reviews of kits he'd send me. That was a tough decision--hmmm, would I be willing to spend about 30 minutes writing up my thoughts after building and flying a FREE ROCKET?! Between the occasional review-this opportunities, contests and quarterly giveaways, I've gotten a fairly hefty pile of swag, and am truly grateful not just for the freebies, but for the wealth of information and tools Nick has graciously put out there for us. Everything from time-sucking games (moon lander, space invaders, asteroids, etc.) to design and building tools (shroud templates, descent rate calculators), to a flight log with really cool stats and graphs (I had no idea I was spending that much money on motors...).
My strongest memory of face-to-face meeting with Nick ties to one of the things I most value about the site--being introduced to products from smaller companies that struggle to make a living in a market dominated by a handful of relatively large and well-known manufacturers. Nick and Dick Stafford had been working with a truly wild Heavenly Hobbies Backdraft, a model that goes up with a booster like a conventional 2-stage model, but instead of immediately lighting a sustainer motor, the booster falls off while the sustainer continues to coast upward, arc over, and start to plummet to its death. While this is happening, though, a fuse lit at initial ignition burns and eventually lights a motor positioned in the forward end of the sustainer, backwards, which pops the nose cone and fires a like a retro-burner. It slows the model down, then deploys a chute out the rear. It's really amazing to watch when it works, and pretty fun to watch even when it doesn't. When I met Nick and Dick at NARAM-50, it tended not to work. In fact, when I was flying on the contest range, one of their flights drifted over from the sport range, and the timing on the fuse was just a tad late. The retro motor lit just above the dry ground maybe 30 yards from the contest range, lit a small fire, and deployed the chute while on the ground. Trip Barber was the RSO on the contest range at the time, and was not amused, though once Nick explained how the model works, Trip was OK with it. I've subsequently picked up one of these, mainly due to Nick's enthusiastic recommendation.

I've also enjoyed some of the informal rivalries on EMRR. In the early years, evil genius Bob Cox and I used to have some interesting competition in the various virtual contests. Bob has since become one of my better rocketry friends, and has even let me spend a few nights in his secret lair when NARCON was held in his neck of the woods. I have to admit, the dungeon wasn't nearly as damp as I'd expected. A couple years ago, Nick pointed out how close he, Dick Stafford and I were in total career reviews posted, so naturally I took that as a challenge and went on a year-long building spree. Nick faded fast (it seems maintaining the site gobbles up lots of time, leaving him short of time to get around to building). Dick, however, went on a tear and we were neck and neck heading into the last month or two. I think I finally slipped by him, though if you look at the body of work that he's built, it's just amazing.

I have to also share a story about one of my favorite rockets, since it was produced by a company Nick was the US distributor for--Model Minutes XFLR-7. I really enjoy making paper models, and this one is a really cool sci-fi design. I'd gotten maybe 5-6 good flights out of it, then at NSL one year I had a really rough day (out of 25 flights, I think only 2-3 were uneventful and didn't result in some form of damage). This previously fine and stable flyer for some inexplicable reason arced over right off the rod and flew directly towards the vendor tents. After a couple minutes of searching, I ran into Jim Flis and asked if he'd seen it. "Was that the really cool looking sci-fi model" he asked? "Check over there in the trash can". Sure enough, it was in the can. I gave him a little ribbing that just because I nearly dive-bombed into his booth he didn't have to throw out my rocket, but he told me the model landed in the can (and a couple witnesses confirmed it). It was pretty badly damaged, so had probably decided to retire itself, but since it was one of my favorites, I retrieved it, repaired it, and flew it again a couple months later. It wound up hanging on the rod that time, burst into flames, and retired for good, though I've bought a couple more when Nick decided to get rid of that product line.

I'm sure the new owners will do wonderful things with EMRR, but I'll always be grateful to Nick for creating such a fantastic site and wonderful resource for all of us in the hobby. He's built not just a great site, but a great community of friends.
Entry #4: Ray King



Attached is a small thank you for all the work you put into a truely wonderful resource (EMRR) and for providing contests that would challenge us to do things we had never done before.

So Enjoy "My firsts" because you provided the motivation.

Thanks again and Good Luck!!
Entry #5: Matt Gillard



The EMRR site is the best rocketry site on the internet. Having discovered it about 6 years ago I became hooked. I now try and enter all the competitions, write at least one review every few months, and use it as the first point of reference for any new kit or project that I start. In 2009 I got a little more involved with the site by becoming one of Nick's formatters. I am amazed by the sheer amount of time and dedication that Nick puts into the site, and all for zero profit. The rocketry community will be a lesser place now that Nick is retiring, but I'm sure the new owners will try to fill the hole that Nick leaves. But is Nick really retiring? I hope that we will see Nick at the other side of EMRR in the next few years, as a user, contestant and reviewer. To get him started, I'm sending him a rocket - I expect to be formatting a review soon.
---
* EMRR assumes no responsibility for the prize once it leaves our or the prize donor's location. EMRR is not liable for any damages or injury caused by the assembly or use of the prize.