Essence's Model Rocketry Reviews (EMRR) has been tapped by Shrox to begin the second phase in the conquest of space. We now present a challenge to your creativity. At Mars Endurance Base, the manifest destiny of space unfolds with the conquest of Mars as our goal. Put yourself there, record your mission log and tell us of the trials, struggle and ultimate victory of the first human colony on Mars.
View the recruitment video and ask yourself, "Do I have what it takes to survive at Mars Endurance Base?" conceptual video (asx 1.5m) You'll not only better yourself, you might win one of the prizes listed below!
Recruitment Video (asx 1.5m)
RULES
Entries will be judged by EMRR Guests during a voting week of April 15, 2004 with the winner being announced on April 26, 2004.
Entry must include:

Your "real" badge-type photo (for your MEB badge - we will make your badge)
Your "real" name
Your "fictional" background
Your "fictional" act of volunteering
Your "fictional" assignment at Mars Endurance Base
Your "fictional" story, experience, observations, etc.

Entry must be 750 to 1500 words (Text or RTF or MS Word)
Entry must be written in "first person"

How to Write Winning First-Person Stories (link no longer exists)

Choice of words must be rated "G"
Contestants may only enter (1) time
Contestants must be on EMRR's Announcement List to be eligible
Contest is over on 4/15/04
Voting will take place from 4/19 - 4/25
PRIZE TABLE:

Art Applewhite Rockets
Any Style Flying Saucer of your choice of design up to a 29mm motor mount.

FlisKits Rockets

(1) Each of the new cluster engine mount kits we just announced!

QModeling

(1) Mrs WACC + (1) Acrylic Rocket Stand

QuickBurst
One $10 Gift Certificate for something of your choice!

RocketFlite
One complete Electric Match Package:
1- ML-KIT, 1-bag of ML-12, ML-24, ML-48 and ML-72 each

Rockethead Rockets

(1) Blink, 3 rocket-set, Rocket Kit
and
(1) Large and (1) Small Parachute Assortments Set

U.S. Rockets

(1) 1.22" x 27" kit for 29mm and 24mm motors: Fire Forget

Western Space Technology

(1) The Rocket Files, 2nd Edition

Western Space Technology

(1) Space and Rocketry Resource CD (V2)
ENTRIES:
#6:
Real Name - Bob Cox
Background - A fry cook! A lousy stinking fry cook!
I didn't spend six years at Cal-Tech getting dual degrees in geology and planetary astrophysics so I could be a fry cook. I didn't sign up for the Mars Endurance Base so I could be a fry cook. I didn't spend four months freezing my butt off in Antarctica so I could be a fry cook. And I certainly didn't spend six month sealed in a tin can on the way to Mars so I could be a fry cook.
#11:
Real Name - Nick Esselman
Background: I began getting interested in rocketry and space travel when someone gave me a Saturn Lander (4th re-release by Estes). It was a cool model rocket that flew on Estes E17's and Quest F31's. The rocket would split into two parts, one returning inside inflatable balloon landing bubbles, and the other utilizing a B1-15 ReverseThrust™ Motor to bring it in softly… any ways, I digress. This got me interested. From then on I pursued my desire to be part of off-earth activity.
#3:
Real Name - Dick Stafford
Background - I'm a Class 3 Robotic Manipulator Operator in the Terraforming Directorate. It ain't rocket science, but it pays well. I learned the trade at the bottom of the Atlantic living with my Pop. He learned it by working the oilfields in Alaska. Robotic operations sure have changed from those days. Well, Pop and I had our differences, so after I graduated I high-tailed it to Antarctica. Antarctica, man, those were the days.
When I heard MarsCorp was looking for operators, I couldn't R-Mail my application fast enough....
#12:
Real Name - Drake H. Damerau
Background: I work for the Department of Defense as a Metallurgist and failure analyst. I have a PhD from MIT and a PhD from the Colorado School of Mines. Having high security clearance comes with its rewards, as well as its liabilities. I was told I volunteered to go MEB.
Assignment: Classified: Above Top Secret
#5:
Real Name - Jay Goemmer
Background - Red sandstone in the southeastern Utah desert.
Mars reminded me of Arches National Park north of Moab, Utah... without the sandstone arches. The first time I stepped into the Martian sunlight, I flashed back to when I was sixteen years old.
#1:
Real Name - Scott Simka
Background - I hold a First Masters Degree from the Galactic Engineering Institute with a Major in Advanced Pressure / Vacuum Management and a Minor in Fluid and Gaseous Dynamics, in addition to 10+ years on the Alpha Moon Base.
I eagerly volunteered to work in the Engineering Section of the Mars Endurance Base.
My assignment is to train new Micro-Fissure Technician Teams in the examination of wall, door, window and floor seams and panels of the entire base for micro-pressure leaks and attempt or call in repairs as necessary.
#8:
Real Name - William T. Krosney
Born: August 29, 2003 (in a prophetic slant, born the day after the closest perihelic opposition of Mars in 60,000 years)
Background: Ph.D's in Genetic Microbiology and Astro-Biology Published academic work on the bioengineering of Mars Research work on the genetic engineering of lower plant forms in improving tolerances to ultra-extreme climates
Selected in the first wave of call for volunteers for MEB based on academic/practical background.
Assignment for MEB: Mission Specialist - Botanist. Primary Role - Support and maintenance of the Growth & Recycling Enviromental Efficient Nodes (aka the "GREENs"). These are living plant modules (essentially Martian greenhouses) which provide edible produce and aid in the recylcing of colony waste gases and liquids. Secondary Role - Scientific experiment on the evaluation of genetically engineered lichens in their survivability in the Martian climate.
#7:
Real Name - Michael Shultz
Background - As I am drifting in space, in a cold, dark and cramped escape pod from the ship Endurance-3, I wonder what went wrong.
Our team went to the Mars Endurance Base (MEB) to find out why the previous two missions suddenly terminated, with no advance signs of pending problems. The rush to find a crew for this mission was not held back due the volunteers clamoring to join.
#9:
Real Name - Stuart Lenz
Background: Man did eventually go to Mars and build the first Mars Endurance Base, but not when I dreamed as a child we would, not even within my lifetime.
After the original manned moon missions, my youthful dreams of manned ships did not come to pass, except in science fiction shows. Do you remember Star Trek in all of it instantiations, Farscape, Babylon 5 and all of our other dreams. In fact manned ships to other planets did not come to pass during my life, but we contribute much toward the day that man did walk on Mars and the moons of Jupiter and Saturn. I remember as a young engineer, ...
#10: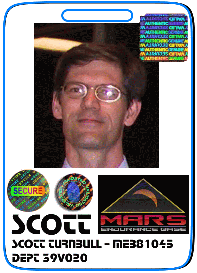 Real Name - Scott E. Turnbull
Background: I'm a computer systems engineer by training, with a PhD in advanced control theory. The "E" in the name designates my status as "Enhanced". I picked that up following my rescue from the Odyssey Lunar Mining Incident. My status as a class 4 quad amp makes me uniquely suited for the implanted universal control interface. There's no competition between the implants and the parts I left behind. Using my engineering training, and the universal interface, I can control systems ranging from the nano to the mega scale. I'm mission rated for orbital and deep space maneuvers, as well as atmospheric navigation.
#2:
Real Name - Nathan Galger
TRAINING AND SCHOOLING: Doctorate of space science: Interstellar School Of Knowledge, Research and development of B. MAD: Breathing Mars' Atmosphere Device, degree in infinite chemistry
LOCATION: Mars Endurance Base *NOTICE: ALL AREAS ACCESS
WHY I'M HERE: My personal friend read a newspaper article stating that Mars Endurance Base was looking for volunteers interested in a space exploration project. My eyes lit up and my heart began to pound, it's what I had been seeking out my whole life....
#4:
Real Name - Donald Besaw Jr.
Background - I was personally selected via social security number by the MEB new recruit team to serve on the MEB due to my qualifications in three critical areas. 1. I am a medical professional. I help the MEB crew cope with the possible adverse effects of less gravity on Mars of that on Earth and I also treat any illnesses or injuries that arise. 2. I am an avid expert on the computer technology used at MEB (I designed a fairly large portion of it myself) and 3. I also perform maintenance work on the emergency return vehicles (ERV's).
My assignment or assignments at MEB is to well, as a medical professional, treat any injuries or illnesses that may arise. ....
#13:
Real Name - J. B. Shepherd
Background -
City planner/developer - New Chicago, earth's moon,
Environmental consultant - Earth Orbiting Space Facility,
Nairobi Reclamation Project, Earth
North Pacific Enviro Bubble, Alaskan Seas
Assignment - City Center Developer/Planner, Mars Endurance Base
The winners agree to write a kit review using the format guidelines included in EMRR's site. Previous winners are eligible for future Rocket Give-Away. EMRR assumes no responsibility for the kit once it leaves our location. EMRR is not liable for any damages or injury caused by the assembly or use of the kit.